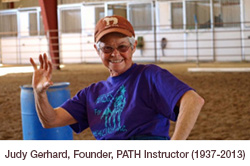 The Judy Gerhard Memorial Scholarship Program provides an opportunity for low-income, special needs individuals to participate in Therapeutic Horseback Riding at no cost. Created in honor of our founder Judy Gerhard, who dedicated her life to teaching others the joys of riding and horsemanship.
Scholarship participants receive:
12 thirty minute riding lessons.
Personalized lesson plan for each client's unique goals.
One-on-one instruction from PATH certified instructors.
How to Help
1. Nominate a Deserving Individual
We are currently accepting Scholarship Applications for the 2017 Riding Sessions.
Download the Scholarship Application
2. Make a Donation
The scholarship is funded by generous individual and corporate donations, help us continue to "Change lives one ride at a time!" by making a monetary donation to the Judy Gerhard Memorial Scholarship Program.
3. Become a Volunteer
Our program depends on the generous support of our local community. Learn more about becoming a Horses for Healing Volunteer.