Horses for Healing Barn Bash/Open House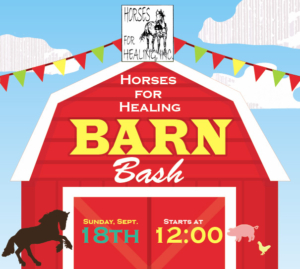 Horses for Healing is excited to host a Fall Barn Bash/Open House.
DATE: Sunday, September 18th
TIME: 12:00 – 3:30 p.m.
LOCATION: Center Stage Ranch, 13355 Bell Brook Drive, Auburn, CA 95602
Bring the whole family for an afternoon of fun! The event will include:
– An open house
– Client showcase rides
– Mini silent auction
– Hamburger and hot dog stand
– Bake sale
– Local vendors
– Horse demonstrations
Clients will have the opportunity to have a short ride in the arena to showcase everything they work on during program for family and friends.
Please RSVP by emailing to info@horsesforhealing.org, or call (530) 887-9573.